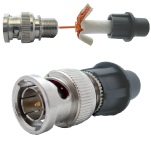 For inquiries, please email: Sales@CaP-America.us Thank you!
Connectors are BNC Male, BNC Female, RCA Male, RCA Female,
F-Screw On, F-Push-On, or F-Tamper Resistant.
The connector cannot be pulled off, but
It can be removed and reinstalled.
The 30 second connector from Italy saves
you time, money, and inventory.
If your distributor doesn't stock them, ask them to do so.
For a list of distributors, click here.
For a video demo of the CaP Connector, click here.
For product information, click here.
The 30 second connector you can't screw up.
One size connector fits all, from mini-coax through RG6 Quad, Analog, HDsdi, HDcvi, HDtvi, and AHD.